Last month, the New York Post ran an article about parents going insane for Elsa costumes and dropping serious cash. I thought this was all a joke until I looked on eBay myself and realized it wasn't.
In the article, Erin Barrier, a Disney store spokesperson informed the paper that the Elsa Dress should be back in limited quantities by early May and back fully in stock in July and August.
On top of this, Disney's Frozen has now become the top-grossing animated film of all time, taking in over $1 billion worldwide.
I took a trip down to the Times Square Disney store myself and spoke with a sales associate, asking "where can I find the Elsa costumes"?
She looked at me with pity and also a little fright. Maybe she was worried I would attack, does anyone remember Jingle All The Way? Classic movie.
Anyway, back to the point. "We're all out."
This first happened with the Cabbage Patch dolls, then the Tickle Me Elmo… now this.
On Cafe Mom, a popular parenting board, a mother says, "I called the two Disney stores near us and they said they've been sold out for a while and they also know Disney World is sold out of these costumes as well. Both my girls were looking forward to being Elsa…"
But what are parents doing this for? To answer this question I asked the utmost parenting authority of all time, my mother. I asked her if she would've bought this dress for $1,000 for me when I was younger.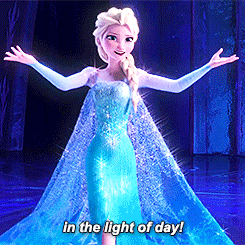 She couldn't stop laughing. "No! But I guess others would… they want their kids to not be the ones left out."
I still don't understand. I know the price of your own child's happiness is priceless, but what would a parent really do this for? Is it to not be the only kid without a costume? Is it to make the parent feel good? Someone, please re-stock the shelves because we really need to let it go.
Follow Courtney Carter on Twitter: www.twitter.com/courtneycartrtv
http://www.huffingtonpost.com/courtney-carter/would-you-spend-1000-to-m_b_5269952.html